Community Information
Mount Prospect offers an active business community, good schools, an excellent library and park districts. There are many small specialty shops and restaurants in the downtown area.
According to the 2010 census, Mount Prospect has a population of 54,167. At the corner of Central Road and Main Street in downtown Mount Prospect, the elevation is 660.5 ft. above sea level. The Village is located at 42 degrees, 31 minutes north latitude and 87 degree, 56 minutes west longitude.
The Village Tree is the Euonymous alatus (aka Burning Bush) and the Village flower is the Snap Dragon.
FARMERS' MARKET: Enjoy the harvest of fresh fruits and vegetables available at the Lions' Club Farmers' Market on Sunday (Sept. 13) from 8 a.m. – 1 p.m. in the Metra East Commuter Parking Lot (SE corner of Emerson St. and Northeast Hwy.). New this week, the Mount Prospect Historical Society will sell store items from the Museum. COVID-19 restrictions are in place and include the following: masks are required for both vendors and visitors under State Executive Order guidelines; food may be prepackaged to limit contact; limit your visit by coming alone if possible, do not congregate or use the market to socialize, and please leave your dog at home. The Market runs through October, so make the most of it.
YARD SIGN CAMPAIGN: The Village of Mount Prospect's Community Engagement Committee is unveiling The Mount Prospect Diversity and Inclusiveness Yard Sign Campaign. Now you can show your solidarity with the community at large with a sign that reads: "Mount Prospect, Better Together, Everyone Is Welcome." Residents can purchase the yard sign for $10 or a window cling for $5 by visiting the web page: www.mountprospect.org/communityengagementcommittee. All proceeds go to support the Village's Emergency Assistance Program, where funds are used to purchase food pantry, school supply items and to provide emergency financial assistance for those in greatest need. You can also submit a picture or a written example to highlight the importance of diversity and connectedness in Mount Prospect. The first fifty entries will receive a free yard sign or window cling. To submit an entry, fill out the form at the above website.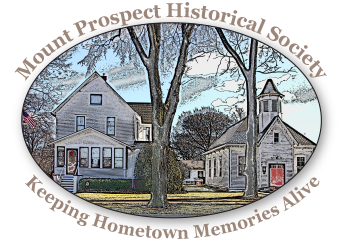 MP HISTORICAL SOCIETY WELCOMES NEW STAFF: A trio of Mount Prospect residents are now at the helm of the Mount Prospect Historical Society! Emily Dattilo, who holds a bachelor's degree in history and anthropology from Loyola University and a master's degree in history from Marquette University, is the society's new director. Amanda Marcus is the new office manager. She studied at the University of Chicago while earning her degree in psychology. Tom Groenwald has over 42 years of experience in finance and accounting. He will share his extensive financial knowledge as a part time bookkeeper. Welcome to all!
IN-PERSON VOTING REGISTRATION: For those who do not want to use online registration for the upcoming November election, you may register in person Monday through Friday from 8:30 a.m. – 5 p.m. at Mount Prospect Village Hall (50 S. Emerson St.). You must have two forms of identification, such as a driver's license, state ID, passport, birth certificate or utility bill. Early voting will take place at Village Hall, beginning Oct. 19. Hours are Monday through Friday from 8:30 a.m. – 7 p.m. On Saturdays and Sundays, the hours are 9 a.m. – 5 p.m. The Final Monday (Nov. 2), the hours are 8:30 a.m. – 7 p.m. Dropping off a mail ballot? A secure drop-off box will be located inside Village Hall. The last day to request a mail ballot is Thursday (Oct. 29). Questions regarding early voting, mail ballots, voter registration or election day voting should be directed to Village Clerk Karen Agoranos at 847/818-5333 or email kagoranos@mountprospect.org. You can also visit www.cookcountyclerk.com for more information.
NEARBY HAPPENINGS:
BARRINGTON ART WALK: Enjoy some eye candy or begin your holiday shopping on Saturday and Sunday (Sept. 12/13) from 10 a.m. – 5 p.m. (210 W. Station St. BARRINGTON). A socially distanced plan is in place to enjoy. Timed reservations are required at www.BarringtonArtFestival.com.
BLOOD DRIVE: State Sen. Julie Morrison (D-29th) and State Rep. Jonathon Carroll (D-57th) will host a blood drive on Tuesday (Sept. 15) from 2 – 6 p.m. at the Prospect Heights Fire Station (10 E. Camp McDonald Rd. PH.). All successful blood donations will be tested for COVID-19 antibodies.
OCC HOSTS CANNABIS WORKSHOP: Oakton Community College has a Cannabis Dispensary and Patient Care Specialist Certificate Program. For the fall 2020 semester, they are also offering a Cannabis Transportation, Logistics and Supply Chain Management 14-hour certificate program. Participants do not have to be enrolled in Oakton's certificate program. Sessions will be held through the Zoom video conferencing app. For more information, call the College at 847-635-1600.
All information for This Week in Mount Prospect is gathered from various local news sources.
50 S. Emerson Street
Mount Prospect, IL 60056
847/392-6000
112 E. Northwest Hwy.
Mount Prospect, IL 60056
847/870-5656
Emergency: 9-1-1
112 E. Northwest Hwy.
Mount Prospect, IL 60056
847/870-5666
Emergency: 9-1-1
300 W. Central Road
Mount Prospect, IL 60056
847/392-2731
M-F 8:30 a.m. to 7 p.m.
Sat 7:30 a.m. to 3 p.m.
705 N. Wheeling Road
Mount Prospect, Il 60056
1-800/772-1213
TTY - 1-800/325-0778
M-F 9 a.m. to 4 p.m.